RESEARCH: SURVEY OF 2022 STATE & LOCAL CANDIDATES
This research initiative builds upon similar projects conducted just after the 2018 and 2020 elections; both studies were designed to examine and learn from the experiences of progressive candidates who ran for state and local office, with the explicit goal of improving efforts to recruit and support them and future candidates.
In essence, these research investments are meant to build, expand, and strengthen the "pipeline" we need to be successful in affecting change across our communities and our country with bold, effective, and diverse new leaders.
See the full deck and findings here.
We thank our partners for their generous assistance.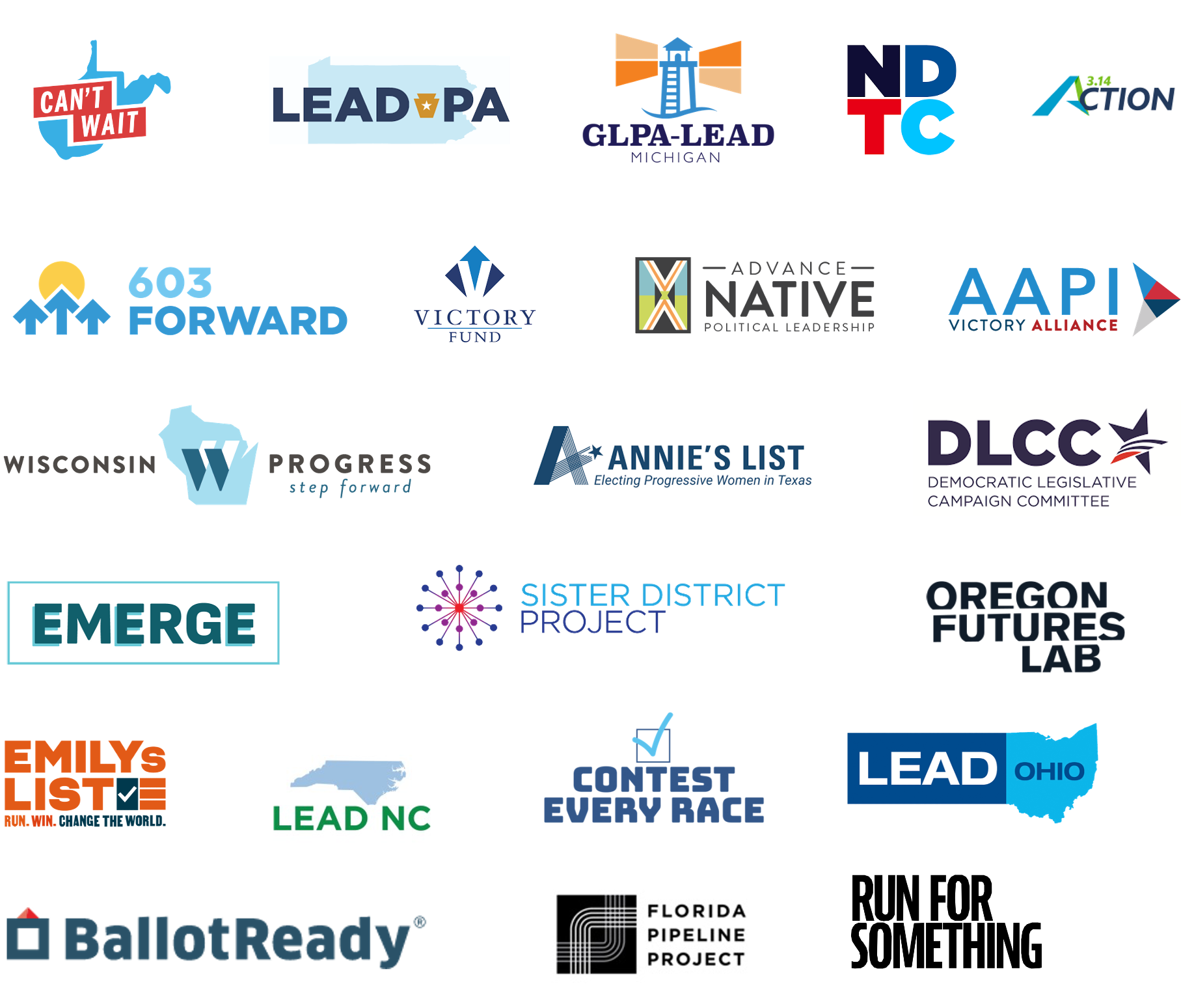 Key Findings:
Recruitment remains a vital component of building the pipeline of progressive candidates, especially for increasing the number of candidates of color. Recruitment from community members, leaders, and elected officials conveys both implicit and explicit support and helps candidates overcome their own doubts that they are qualified. Current and former elected officials are especially valuable recruiters; they often become ongoing mentors that candidates can turn to with questions as someone who has done it before. But there is a clear need for greater outreach from local party officials or officeholders to recruit candidates of color.
Outreach efforts should tap into prospective candidates' strong desire to serve their communities and have a voice on the issues that matter (in 2022, it was education, jobs and the economy, and women's rights). Candidates of color, LGBTQ+, and immigrant and first-generation candidates have a deep and personal commitment to making government more reflective and what that means for people to see themselves in their leaders.
Outside organizations play a critical role in propping up candidates with direct contributions and establishing candidate credibility through endorsements. These forms of support are both highly valued and some of the most commonly provided by third-party organizations. Still, first-time candidates–especially those running for local office–often struggle with identifying and connecting to outside and third-party organizations. To maximize their impact, outside organizations must proactively reach out to candidates, get to know them, and tailor support based on factors such as office type, previous campaign experience, and geographic location.
There is a real need for organizations to build infrastructure that candidates can use to tap into local volunteer networks and potential donors. Many of these candidates are working with very small budgets and frequently no paid staff and report that mobilizing volunteers and fundraising are some of their most significant challenges that they simply cannot do without help.
The divisiveness and extremism of national politics has become an ever-present backdrop for local elections. Candidates at all levels need tools to help in the battle against misinformation, how to navigate contentious campaigns, and how to return their local communities to civic dialogue. This divisive political climate adds another layer of difficulty to recruiting and training volunteers, who can be wary of facing hostile members of their community.
State legislative candidates in particular now see themselves as part of efforts to defend our country against threats to democracy as well as to block Republicans' harmful agenda. This is both a motivator for organizations to leverage during outreach efforts and an ongoing issue candidates need help messaging for how to draw a sharp contrast with extremist opponents in a way that does not escalate tensions in the community.

 

A toxic political environment too often translates into harassment of candidates running for office. Over half of candidates disclose experiencing harassment during the campaign and rates are even higher for younger candidates, LGBTQ+ candidates, and candidates with a disability. Candidates need tools and mentoring for how to protect themselves and respond to harassment both on social media and in person.
School board candidates encounter particularly hostile environments and point to instances where previous office-holders resigned due to harassment. This highlights the need to recruit candidates, help them win, and then empower them to remain in office.
Many candidates express a desire for more guidance on how to maintain their emotional health and wellbeing throughout the campaign. The persistent demands of the campaign are a challenge and sometimes unexpected for candidates. Many report they struggle with balancing campaign responsibilities with their family life and economic responsibilities. Organizations can help by facilitating the formation of informal support networks among candidates, which can be especially helpful in this regard.
Candidate trainings are a crucial resource that support candidates in several areas. Recruiters can reassure first-time candidates that experts will help them learn the ropes. Candidates appreciate learning hard skills (e.g., using the voter file, refining fundraising pitches) and soft skills (e.g., time management, self-confidence). They also value the relationships that they form with other candidates, mentors, and political operatives. Training organizations must continue to grow their proactive outreach efforts and find ways to deliver material that are most accessible to candidates (e.g., asynchronous webinars, newsletters).